Employers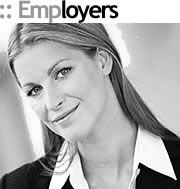 >> Post a Job
>> Browse Resumes
>> Resources
Welcome Employers
APEGGA Resume Referral Service Online offers potential employers of our members a cost free-effective resource to publicize their career opportunities and identify qualified candidates to fill a position within their organization. As a Job Poster you have the flexibility to change your posted positions at anytime and receive candidates' resumes at your request.
Employer Tools and Resources
Post a Job
Inform job seekers of open positions. Once you have completed the online form and it is reviewed it will be posted to the APEGGA Resume Referral Web site.
Browse Job Seekers
Identify the Professionals that meet your requirements. Searches can be performed by job location, job category and/or keywords.
Resources
A listing of some of the companies who have used our Resume Referrral Service.
Contact Us
Questions about APEGGA's Resume Referral Services? Please complete our contact form with your questions or comments here.